Industri aplikasi:
1. Produk elektronik: ponsel, komputer, televisi, perekam video…2. Produk kain tekstil: pakaian, topi, sepatu, tali

3. Kawat dan kabel: kabel data, usb,

4. Produk kulit: tas tangan, dompet, sepatu kulit, kursi kulit

5. Instrumentasi, kendaraan, produk plastik, logam,

6. Makanan, kimia, bahan bangunan, medis, kedirgantaraan

7. Lainnya…
 Fungsi aplikasi:
1. Untuk mensimulasikan lingkungan pengujian dengan suhu dan kelembaban yang berbeda
2. Uji siklik meliputi kondisi iklim: uji penahanan, uji pendinginan, uji pemanasan, uji pelembapan dan uji pengeringan, uji pendinginan, uji pemanasan …
3. Port kabel dengan steker silikon fleksibel untuk perutean kabel untuk menyediakan kondisi unit uji yang sedang beroperasi
4. Mengungkap kelemahan unit tes dalam tes jangka pendek dengan efek waktu yang dipercepat
Standar tes yang kompatibel:
IEC60068-2-1 : Dingin
IEC60068-2-2 : Panas kering
IEC60068-2-14 : Perubahan suhu dengan laju perubahan yang ditentukan
IEC60068-30 : Peredam panas, siklik (Jenis Siklus Suhu Laju Cepat)
IEC60068-2-38 : Uji siklus suhu/kelembaban komposit
IEC60068-2-78 : Panas lembab, kondisi stabil
IEC61747(5.2.7): Perangkat tampilan kristal cair dan solid-state Uji lingkungan, ketahanan, dan mekanis (Jenis Siklus Suhu Laju Cepat)
ISO16750-4 5.3 : Kendaraan jalan raya (bersepeda suhu)
Chamber Parameter:
Model
HD-E702-100-7 (100L,150L,225L,408L,800L can be optional)
Internal dimension (W*D*H)
400*500*500mm(can optional different sizes)
External dimension (W*D*H)
900*1070*1400mm(can optional different sizes)
Temperature range
-70~+150℃
Temperature fluctuation
±0.5℃
Temperature uniformity
2℃
Humidity range
20~98%RH (Refer Image below)
Humidity fluctuation
±2.5%RH
Humidity uniformity
3%RH
Cooling speed
1℃/min in average (without loading)
Heating speed
3℃/min in average (without loading)
Internal chamber material
SUS#304 stainless steel, mirror finished
External chamber material
Stainless steel
Cooling method
Air cooling
Controller
LCD touch screen, programmable control temperature and humidity

Can set different parameter for cyclic test

Insulation material
50mm high density rigid Polyurethane foam
Heater
Explosion-proof type SUS#304 stainless steel fins radiator pipe heater
Compressor
France Tecumseh compressor x 2sets
Lighting
Heat resistance
Temperature sensor
PT-100 dry and wet bulb sensor
Observation window
Tempered glass
Testing hole
Diameter 50mm, for cable routing
Sample tray
SUS#304 stainless steel, 2pcs
The table parameters for the haida Standard Model parameters, haida chamber manufacturer support customer customization.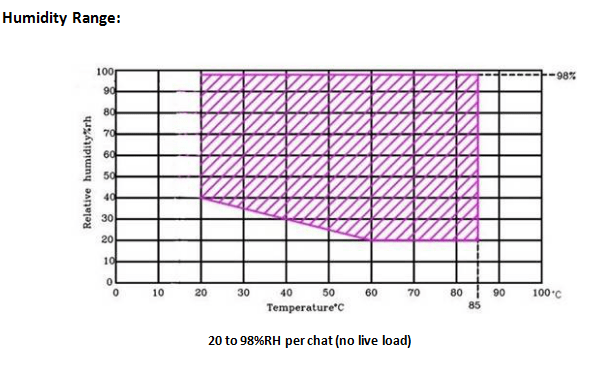 Programmable Controller:
1. PIC controller for test chamber
2. Step types include: ramp, soak, jump, auto-start, and end
3. RS-232 interface to connect computer for output
Safety Features :
1. E-Stop
2. Over-load protection
3. Upper and lower limit switches
4. Load sensor with automatic retreat